Knowing how to understand many numbers and weird names is essential! When buying prescription glasses online, you will need only a few minutes of your time, your prescription and either a computer or a telephone.
Reading through the prescription may seem hard and barely understandable. We are here to teach you the basics, so let's get started.
LEARN YOUR OD AND OS
OD stands for 'oculus dextrus', which is Latin for the right eye. OS stands for 'oculus sinister', which is for the left eye. But some doctors already have special forms for prescription, without abbreviations such as OD and OS. There is simply a Right and Left eye column or letters R and L.
KNOW YOUR SPH
SPH (or simply S) is an abbreviation for the sphere. A sphere is a number describing the "strength" of your lens. Right next to this number you will see a sign + (for farsightedness) or - (for nearsightedness). The larger number is, the more you need to correct your eyesight.
We must not forget to mention, that if you have in your sphere sign =, this equals to sign -.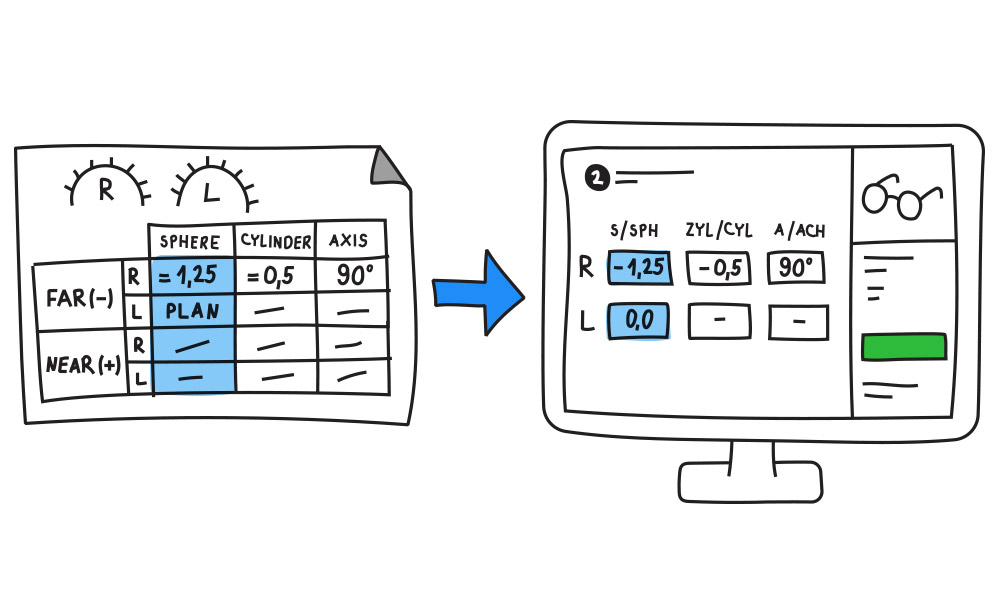 COLUMNS FOR ASTIGMATISM
We have already explained what astigmatism is in this article. Astigmatism frequently occurs when you are nearsighted or farsighted. If you have it, you will have filled values in columns with the names CYL & AXIS. If these columns are blank, you don't have astigmatism (yaaay).
CYL (or ZYL) stands for cylinder, which describes the degree of how flat your eye is.

AXIS (or A, ACH) represents the orientation or angle of your astigmatism. It's from 1 to 180 degrees.
ADDITIONAL STRENGTH
ADD describes additional strength, or simply if you need glasses for reading or work. In this column is also written, if you need progressive lenses, bifocal or multifocal lenses.
In case you're still not sure whether you have read your prescription correctly, you can contact our customer service and they will help you fill your values.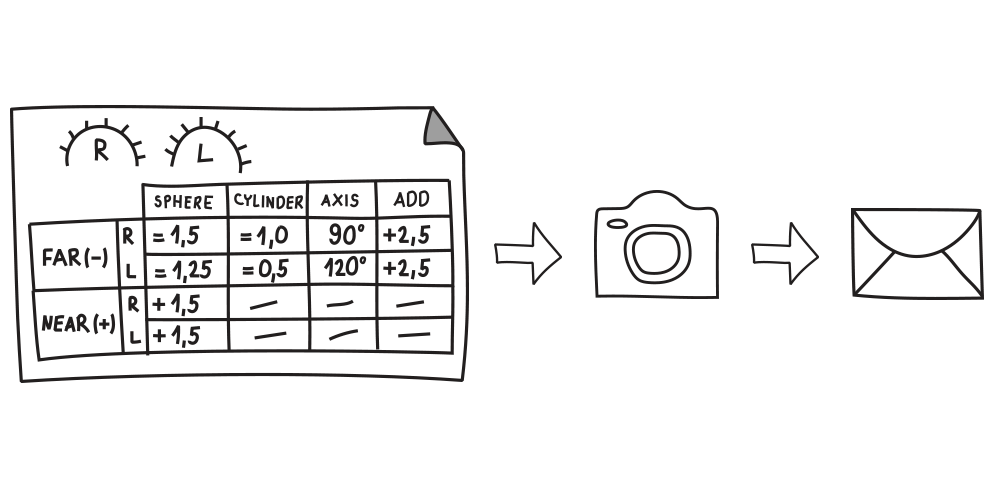 KNOW YOUR PD
Your PD value is key to ordering eyeglasses online. PD (pupillary distance) it's a measurement in millimetres between your eyes from the centre of one pupil to the centre of the other. If your prescription does not contain this value, don't worry. We have prepared a simple guide on how to measure your PD at home or you can try our online tool. When using our online tool, you will need a credit (or any other) card and camera (web or phone).
Hopefully, you have learned something and you can read your prescription like a (little) pro. Now you can start a season with new